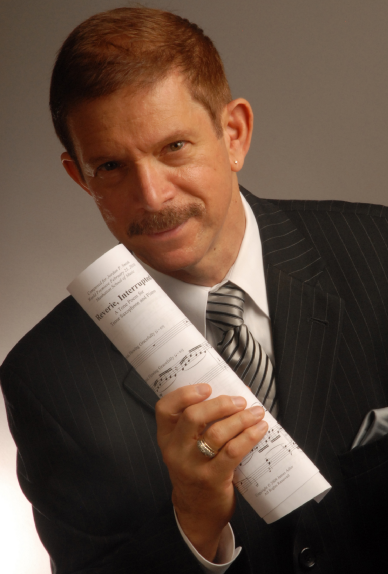 James Adler is a pianist who "can create whatever type of music he wants at the keyboard" (Chicago Sun-Times) and a composer "who writes "with uncommon imagination" (Atlanta Journal-Constitution) . This season, the Fort Worth Alumnae Chapter of Sigma Alpha Iota International Music Fraternity of ers the world premiere of Daughters of Music (lyric by Debra Rue) , which they commisioned in celebration of their 70th anniversary. Also, Mr. Adler is presented in recital at the Piano Salon at Yamaha Artist Services to celebrate the launch of his newest CD, Introspections. This Albany Records disc features his Suite Moderne for Strings in a live recording by " The President's Own" U. S. Marine Chamber Orchestra; 3 Introspections for lyric baritone, oboe, and piano (lyric by David Cote, theatre editor of Time Out New York) ; Twisted Tango for tenor saxophone and piano (now available for concert band) ; and Six Little Variations on Noël Ancien for flute and piano. Also included are solo works composed for Mr. Adler by Seth Bedford and Kevin Cummines, and Paul Turok's Clarinet Sonata, recorded by Mr. Adler and Alexander Fiterstein.
Mr. Adler's extensive list of compositions is headed by Memento mori: An AIDS Requiem. The work premiered in Atlanta and has been performed from New York City to Tallinn, Estonia to San Francisco (the latter directed by Grammy-award winner Joseph Jennings) . Memento mori features a "range of expression [that] is expansive" and is "a unique, well-crafted, emotionally rich piece" (American Record Guide) . The vocal score of this work is now available from Alfred Music. His other compositions include Monday's Child, performed in December 201 4 at the Cathedral of Saint John the Divine and the Metropolitcan Museum of Art; Al egro Scherzando for symphonic band and piano, which premiered in 2009 at Symphony Space (New York City) ; the often- performed Carols of Splendour, which premiered at Carnegie Hall; It's Gotta Be America, commissioned for the Centennial Celebration of the Statue of Liberty; and Canticle For Peace, written for the opening of the 43rd session of the United Nations General Assembly. Mr. Adler is the composer of Concerto in G for Piano and Orchestra, the children's "pOpera" Herbie and Carnie: A Dinosaga, The Classic Rag-time Suite for orchestra, numerous solo, chamber, and choral works, and the award-winning film score for The Hat Act.
Audiophiles can enj oy Mr. Adler's music on the premiere recording of Memento mori by the AmorArtis Chorale and Orchestra on Albany Records. His solo piano CD, James Adler Plays Syncopated Rhythms, "is a virtuosic af air, brilliantly played" (Turok's Choice) ; it includes works of Adler, Gershwin, Copland, Menotti, and Antheil. Nicholas Underhill's CD "Light and Sirius" features 3 Piano Transitions, which Gramophone noted "spins appealing variations on the venerable forms of passacaglia, prelude and toccata before immersing itself in spicy and ebullient Caribbean-influenced dances." Daniel Coombs writes in Audiophile Audition of the premiere recording of Reverie, Interrupted (on Scuplting the Air: Modern Works for Wind Instruments) that it "is a very nice jazz- inflected work that meanders in and out of the lyrical and the buoyant; all supported by a very neat noir-like piano part." Digital downloads of Mr. Adler's 9/1 1 remembrance Reflections upon a September morn are available from Albany records; featuring poetry by Walt Whitman which "resonate[s] chillingly anew in the recording" (Bruce-Michael Gelbert, [Q]onStage. com) , "the whole is recommended, a fine, moving piece" (Paul Turok, Turok's Choice) . His Ravello Records CD, James Adler & Friends, showcases his own works as well as those of his musical influences, concluding with two Adler piano works — Piano Fantasy on the "Bal ad of Sweeney Todd" and Fantasy Grotesque on a Medieval Theme — and the Liszt piece that inspired them, Mephisto Waltz No. 1.
Mr. Adler made his orchestral performing debut with the Chicago Symphony Orchestra and has appeared in recital on the Orchestra's Allied Arts Piano Series. Other highlights include appearances on the Dame Myra Hess Memorial Concerts Series at the Chicago Cultural Center, and a special London orchestral performance at the Royal Albert Hall, broadcast by the BBC. His New York appearances include Alice Tully Hall, Symphony Space, and the Paramount Theatre at Madison Square Garden.
A native of Chicago, James Adler is a graduate of the Curtis Institute of Music in Philadelphia. Mr. Adler is a member of the Fine Arts Department faculty at Saint Peter's University, where he is also director of the Vocal Arts Ensemble. He has adj udicated at national and international music competitions and is himself the recipient of an award from ASCAP for outstanding composition achievement each year since 1 978. He has received grants from Meet The Composer and from the New Jersey State Council on the Arts and is a laureate in Who's Who in American Music and the International Who's Who in Music.