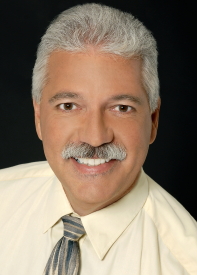 Dennis Janzer is a composer and organist residing in Memhis, TN. His many published compositions are regularly used in concert and worship services throughout the world. Newly commissioned works and other original compositions are featured in premiere performances on a regular basis.
Dennis has performed on numorous concerts sponsored by the American Guild of Organists, churches and universities. Dennis premiered his South ofthe Border organ demonstrator composition for narrator and organ at the Irish and Cultural Heritage Center of Wisconsin. The work is published by Leupold Editions, as are most of his organ compositions. Dennis was Organ Curator for the Irish Cultural Heritage Center in Milwaukee, Wisconsin and returns to present concerts as a featured soloist on their pipe organ. He performed at the Organ Historical Society's 40th Annual National Convention playing original compositions. His organ music and arrangements are included in numerous teaching volumes, and are used at the American Guild of Organists' "Pipe Organ Encounters," an organists' out-reach program held annually throughout the US.
A recipient of annual ASCAP awards, (American Society of Composers), his many published organ, choral, and instrumental compositions are performed at churches and concert venues. Symphonic compositions have won awards and been commissioned and performed by the Milwaukee and Waukesha Symphony Orchestras. His composition Duologue for trumpet and organ won the First Place Award of the International Trumpet Guild's Composition Contest. A commissioned brass and organ composition, La Fete Triomphale , was premiered with the Milwaukee Symphony at the rededication of the Basilica of St. Josaphat, Milwaukee, WI. (Both available from LEUPOLD ED.)
His first organ concerto was premiered with the symphony from the University of Wisconsin - Milwaukee under the direction of Margery Deutsch: Music of our Sphere, where Dennis taught from 1990-2000. Dr. Janzer has since been adjunct faculty for the University of Miami and Florida International University.