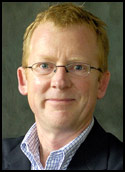 Marc A. Hafso, D.M.A., is director of choral and vocal activities, professor of music and director of the Whitworth Choir. He attended Pacific Lutheran University, the University of Arizona and Michigan State University, and has gained experience at all levels of choral music education through elementary, secondary and university teaching positions he has held in the United States and Canada. Hafso came to Whitworth in 2003 from Augustana University, in Alberta, where he developed a nationally recognized choral program.
He is the recipient of numerous honors and awards recognizing his teaching, creative work, service and conducting, including Augustana's Betty Ostenrud Award; a Pacific Lutheran Centennial Alumni Recognition Award; a Government of Alberta Achievement Award; an Alberta Choral Federation 2001 Con Spirito Award; the 1994 Sir Ernest MacMillan Memorial Prize in Conducting from the Toronto Mendelssohn Choir Foundation; and major grants from The Canada Council and the Alberta Heritage Scholarship Fund.
Active as a guest conductor, guest soloist, clinician and adjudicator, Hafso is also a composer with compositions published byColla Voce, of Indianapolis. In 2007, Colla Voce published Hafso's choral arrangement, "Down in the River to Pray," and his choral works, "Sanctus" and "Gloria," both from Missa Pacem. Forthcoming is Hafso's major choral work, Missa Pacem, to be published by Colla Voce in five sections (Kyrie, Gloria, Credo, Sanctus, Agnus Dei).
Presenter of University-Level Choral Literature Reading Session at the Washington State Chapter of American Choral Directors Association Summer Institute (2007).
In Canada, Hafso served regional and national choral communities as a member of the boards of the Alberta Choral Federation and the Association of Canadian Choral Conductors and as chairperson of Podium 2000, the National Conference of ACCC. Currently, he serves as president-elect for the Washington State Chapter of the American Choral Directors Association (2007-09). Served as chairperson of the WA-ACDA Summer Institute (2008).