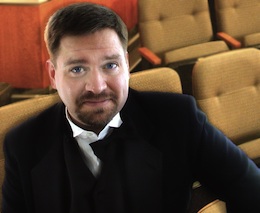 A native of Wisconsin, Randy Haldeman (b. 1967) has taught Choral and General Music at all levels of academia – Pre-K through collegiate – in Wisconsin, Idaho, Illinois, Florida, Vermont, and Italy. Haldeman earned the Bachelor of Music degree in Vocal Performance from the University of Wisconsin at Whitewater, the Master of Music degree in Voice and Opera Performance from Northwestern University, and the Doctor of Philosophy degree in Music Education (Choral Conducting emphasis) from The Florida State University. Dr. Haldeman's choral arrangements and compositions are published by Colle Voce and Walton, including six in the Rodney Eichenberger Choral Series. His work has been commissioned/performed by groups under the direction of André Thomas, Rodney Eichenberger, Donald Brinegar, Steven Zielke, and other directors throughout the country at several state and regional MENC and ACDA conferences (including All State choruses), and at the ACDA National Convention in Miami.
Dr. Haldeman lectures extensively on developing young conductors and efficiency in the choral rehearsal; in the past year alone he has presented lectures and clinics at The National Academy of Singing (Alcala, Spain), the Real Conservatorio Superior de Música de Madrid (Madrid, Spain), the Conservatorio di Musica Benedetto Marcello di Venezia (Venice, Italy), and the Conservatorio di Musica di Vicenza (Vicenza, Italy), as well as in California, Oregon, Washington, Missouri, and Tennessee.
Formerly active as a performer, Haldeman garnered critical praise on the operatic, musical theatre, and concert stages. Appearances of national interest include "Mr. Snow" in the 50th Anniversary Production ofCarousel, and "Uncle Billy" in the Chicago premier of Sheldon Harnik's A Wonderful Life, as well as associated national tours. Haldeman was also very active as a clinician and performer in professional and award-winning show choirs, where he developed his early skills in arranging. As a conductor, his choral groups have received enthusiastic responses from audiences and critics alike in 11 states and Europe, including several state and regional festivals, conferences, and contests. At UNC Charlotte, Haldeman is the Director of Choral Studies and teaches conducting and music education courses.