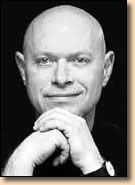 Bern Herbolsheimer has received recognition throughout the United States and Europe for over 500 works ranging from ballet to symphonic, operatic, chamber and choral works. His numerous major commissions and premieres have included ballets for the Frankfurt Ballet, the Atlanta Ballet, the Pacific Northwest Ballet, and the Eugene Ballet. His first opera, Aria da Capo, won first prize in the National Opera Association's New Opera Competition. Mark Me Twain, his second opera, was commissioned and premiered in 1993 by the Nevada Opera for its Silver Anniversary season.
His Symphony #1 was premiered by the Florida Symphony under conductor Kenneth Jean, and other orchestral music has been premiered by the Seattle Symphony, Northwest Symphony Orchestra, and Music Today in New York under the direction of Gerard Schwarz. His vocal and choral music has been performed in Portugal, Spain, Germany, France, Italy, Australia, South America, Canada, Norway, Russia, Hungary, Japan, and throughout the United States.
A frequent award winner, Mr. Herbolsheimer has been Seattle Artist-in-Residence (Seattle Arts Commission), Washington State Composer of the Year (WSMTA), and winner of the Melodious Accord Choral Music Competition (Te Deum), in addition to the National Opera Association's New Opera Competition (Aria da Capo). He has also been the recipient of composition commissions from the National Endowment for the Arts (Symphony #1), Chamber Music America (Tanguy Music), the Seattle Symphony (In Mysterium Tremendum), and from numerous local organizations such as Seattle Men's Chorus, St. James Cathedral, Opus 7, Seattle Pro Musica, the Esoterics, and the Cascadian Chorale. His works also appear on recent CDs by St. James Cathedral, Opus 7, Paul Taub, Tony Brown and Lisa Bergman, Monica Harte, Seattle Piano Collective, among others. His music is published by G. Schirmer, EC Schirmer and Colla Voce.
As pianist Mr. Herbolsheimer has performed as accompanist at the Bergen International Music Festival, the Schloss Elmau Festival, and on concert series for Columbia Artists, Saint Martin's Abbey, the Spanish Institute, the Goethe Institute, the American Opera Festival of the Sierra, Estoril/Cascais Concerts in Portugal, the Tatarstan Opera in Kazan, Battelle Institute, the Ojai Music Festival, and regularly in the Western Washington area.
Mr. Herbolsheimer served on the music faculty of Seattle's Cornish College, where he taught composition-related classes and held a private studio, and the University of Washington, where he taught graduate classes in the voice program. At the end of the 2000-2001 school year he was selected as the Outstanding Teacher of Music at Cornish College.