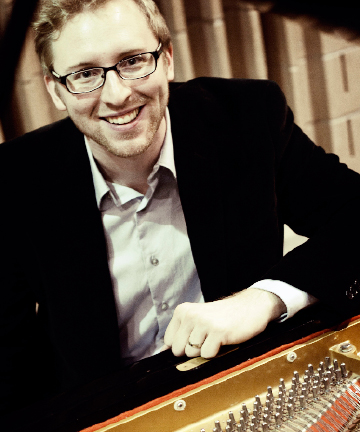 David von Kampen (b. 1986) is a DMA candidate in music composition and a Graduate Teaching Assistant at the University of Kansas. He has studied composition with James Barnes, Dan Gailey, Forrest Pierce, Eric Richards, and Randall Snyder. Raised in Michigan and Nebraska, David's musical influences include hymnody, choral music, musical theatre, and contemporary jazz.
David is a three-time Downbeat Award winner in graduate-level jazz writing categories, winner of the National Band Association's Young Jazz Composers Competition, a three-time winner of the Vancouver Chamber Choir Young Composers Competition, winner of the Morningside College Choral Composition Contest, an ASCAP Young Jazz Composers Competition Finalist, and the recipient of the Vreeland Award for "exceptional creative ability" by the University of Nebraska-Lincoln School of Music in 2007 and 2011.
David's choral and instrumental music is published by G. Schirmer/Hal Leonard, Boosey and Hawkes, Concordia Publishing House, UNC Jazz Press, Sound Music Publications, Potenza Music Publishing, and Dorn Publications. He has written commissions for the Lutheran Church-Missouri Synod, the Vancouver Chamber Choir, the Concordia-Chicago Wind Symphony, the Morningside College Concert Choir, Eden United Church of Christ (Chicago), Doane College Choir and Wind Ensemble, Briar Cliff University Singers, and others. David's incidental music and songs have appeared in UNL stagings of "As You Like It" (2008) and "Bloody Poetry" (2010) at the Johnny Carson School of Theatre and Film.
David's compositions and arrangements have been performed by the U.S. Army Blues Jazz Ensemble, the Vancouver Chamber Choir, the LCMS National Youth Gathering Honor Choir and Wind Symphony, the Anchorage Concert Chorus, vocal and instrumental ensembles at the University of Kansas, the University of Nebraska-Lincoln, the University of Oregon, the University of Northern Colorado, Sacramento State University, University of Wyoming, University of Central Arkansas, Concordia University (NE), Concordia University (Chicago), Doane College, Briar Cliff University, Luther College, Dordt College, Morningside College, and by numerous high school and church choirs throughout the United States.
David is active as a pianist and musical director in jazz and musical theatre settings, and as a clinician for both vocal and instrumental ensembles. Recent clinician and adjudication opportunities included the 2013 Nebraska All-State Jazz Choir, the University of Kansas Jazz Festival (since 2011), the Southwest Community College (Creston, IA) "Fox Fest" Vocal Jazz Festival, and others.
David currently directs the University of Kansas Jazz Singers and teaches composition at Concordia University, Neb. He is a member of ASCAP and the American Choral Directors Association, and lives in Lincoln with his wife Mollie.