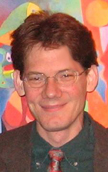 Carlyle Sharpe (b. 1965) is Associate Professor of Music in Composition and Theory at Drury University in Springfield, Missouri, and recent recipient of the Drury University Faculty Award for Excellence in Scholarship. His cantata, Proud Music of the Storm, was recently featured on the National Endowment for the Arts "American Masterpieces" concerts with the Providence Singers and was also performed by The Washington Chorus at The Kennedy Center in April 2008. The Providence Journal called his work "the smartest, most well-crafted offering" and an "intense imaginative score" and the Choral Journal noted "Sharpe has created a worthy addition to the repertoire."
Commissions include those from the Seraphim Singers, Providence Singers (Proud Music of the Storm), Suburban Youth Symphony Orchestra (Chicago), Colorado Brass Band, Episcopal Diocese of Massachusetts, ALEA III Contemporary Ensemble in Boston, and Olympic Quartet (Luge) for the 2002 Winter Olympics Festival Concerts celebrating the Cultural Olympiad. His Laudate Nomen for SATB Chorus and Organ won the 2000 American Guild of Organists/ECS Publishing Award in Choral Composition, Confitemini Domino for Brass Quintet and Organ won the 1998 Holtkamp/American Guild of Organists Award in Organ Composition, and Psalm 122 for SATB Chorus, Tenor Solo and Organ won the 1996 American Guild of Organists/ECS Publishing Award in Choral Composition. He is published by ECS Publishing, Hinshaw Music, Inc. and Colla Voce Music, Inc., and has been honored through the ASCAP Foundation Grants to Young Composers, an ASCAP scholarship, the ASCAP Awards, and Meet the Composer.
His music has been heard in nationally televised broadcasts by the Mormon Tabernacle Choir and has been broadcast over WGBH Radio-Boston, the Canadian Broadcasting Corporation, Minnesota Public Radio and Nebraska Public Radio. His works have received numerous performances including those by the San Diego Symphony, Mormon Tabernacle Choir, San Diego Master Chorale, Innovations en Concert-Les Solistes "Amérique" in Montréal, Minnesota All-State Choir, New England Philharmonic, Northwestern University Symphony Orchestra, Kwang Ju City Choir in Korea, Charlotte Symphony, Omaha Symphony, and at the Oberlin College-Conservatory, Aspen Music Festival, Washington National Cathedral, the American Guild of Organists National Conventions in Denver and Philadelphia, the 4th Curso Internacional de Regencia Coral in Rio de Janeiro, Brazil, the Melbourne 5th International Festival of Choirs in Australia, and the Tanglewood Music Festival.
A native of Texas, he graduated summa cum laude with Bachelor of Music and Master of Music degrees in composition from Rice University's Shepherd School of Musicand was a recipient of the Louis Sudler Prize in the Arts. Upon completion of the Doctor of Musical Arts degree in composition at Boston University, he was one of five graduating students to receive the Kahn Career Entry Award for the Arts, a generous grant awarded to launch the recipients' professional careers.
Prior to teaching at Drury University, he was Assistant Professor of Music in Theory and Composition at Boston University's School of Music and taught at theMassachusetts Institute of Technology. While at Boston University, he studied composition with John Harbison, Charles Fussell, and Marjorie Merryman. His composition teachers at Rice University were Paul Cooper, George Burt, and Arthur Gottschalk. As a student in the Advanced Master Class Program in Composition at the Aspen Music Festival, he studied with Jacob Druckman and Bernard Rands.