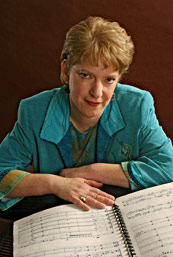 Judith Shatin is a composer, sound artist, community arts partner and educator. Timbral exploration and invention, as well as collaboration with musicians, artists and communities are central to her musical life. Her music reflects her multiple fascinations with literature and visual arts, with the sounding world, both natural and built; and with the social and communicative power of music. Upcoming projects include commissions from the Cassatt Quartet, Scottish Voices, and the Stonybrook Chamber Players. Recent projects include Jefferson, In His Own Words for narrator and orchestra, a co-commission of the Charlottesville and University Symphony Orchestra and the Illinois, Richmond and Virginia Symphonies, premiered by the Illinois Symphony (Karen Deal, conductor) in the spring of 2010 and Tower of the Eight Winds for violin and piano. The Washington Post said "Judith Shatin's Tower of the Eight Winds, commissioned by the Library of Congress, that it ...stood out for its acuity and engaging vivacity as music one would like to hear again."
Shatin's music has been featured at festivals including the Aspen, BAM Next Wave, Grand Teton, Havana in Spring, and many others. Orchestras that have performed her music include the Denver, Houston, Illinois, Knoxville, Minnesota, National and Richmond Symphonies. It can be heard on numerous labels, annd has been commissioned by groups including the Ash Lawn Opera, Barlow Foundation, Core Ensemble, Garth Newel Chamber Players, Kronos Quartet, Music-at-LaGesse Foundation, the National Symphony, Hexagon Ensemble, Virginia Chamber Orchestra and Wintergreen Performing Arts.
Educated at Douglass College (AB, Phi Beta Kappa), The Juilliard School (MM) and Princeton University (PhD), Judith Shatin is currently William R. Kenan, Jr. Professor and Director of theVirginia Center for Computer Music, which she founded at the University of Virginia in 1987. Long an advocate for her fellow composers, she has served on the boards of the American Composers Alliance, the League/ISCM, and the International Alliance for Women in Music (IAWM). She also served as President of American Women Composers, Inc. (1989-93). In demand as a master teacher, she has been featured through the BMI residency at Vanderbilt university, and as senior composer for the Wellesley Composers Conference, among many others.
Shatin has been honored with four National Endowment for the Arts Fellowships, as well as awards from the American Music Center, Fromm Foundation, Meet the Composer, the New Jersey State Arts Council and the Virginia Commission for the Arts. A two-year retrospective of her music, and the commission for her folk oratorio, COAL, was sponsored by the Lila Wallace-Readers Digest Arts Partners Program. She has held residencies at Bellagio (Italy), Brahmshaus (Germany), Stiftung Dr. Robert und Lina Thyll-Dürr, Casa Zia Lina (Italy), La Cité des Arts (France), Mishkan Amanim (Israel) and in the US at MacDowell, the Virginia Center for the Creative Arts, and Yaddo. Shatin's music is published by Arsis Press, C.F. Peters, Colla Voce, E.C. Schirmer, Hal Leonard and Wendigo Music. Her work is included in Women of Influence in Contemporary Music, Nine American Composers (Scarecrow Press, 2010).